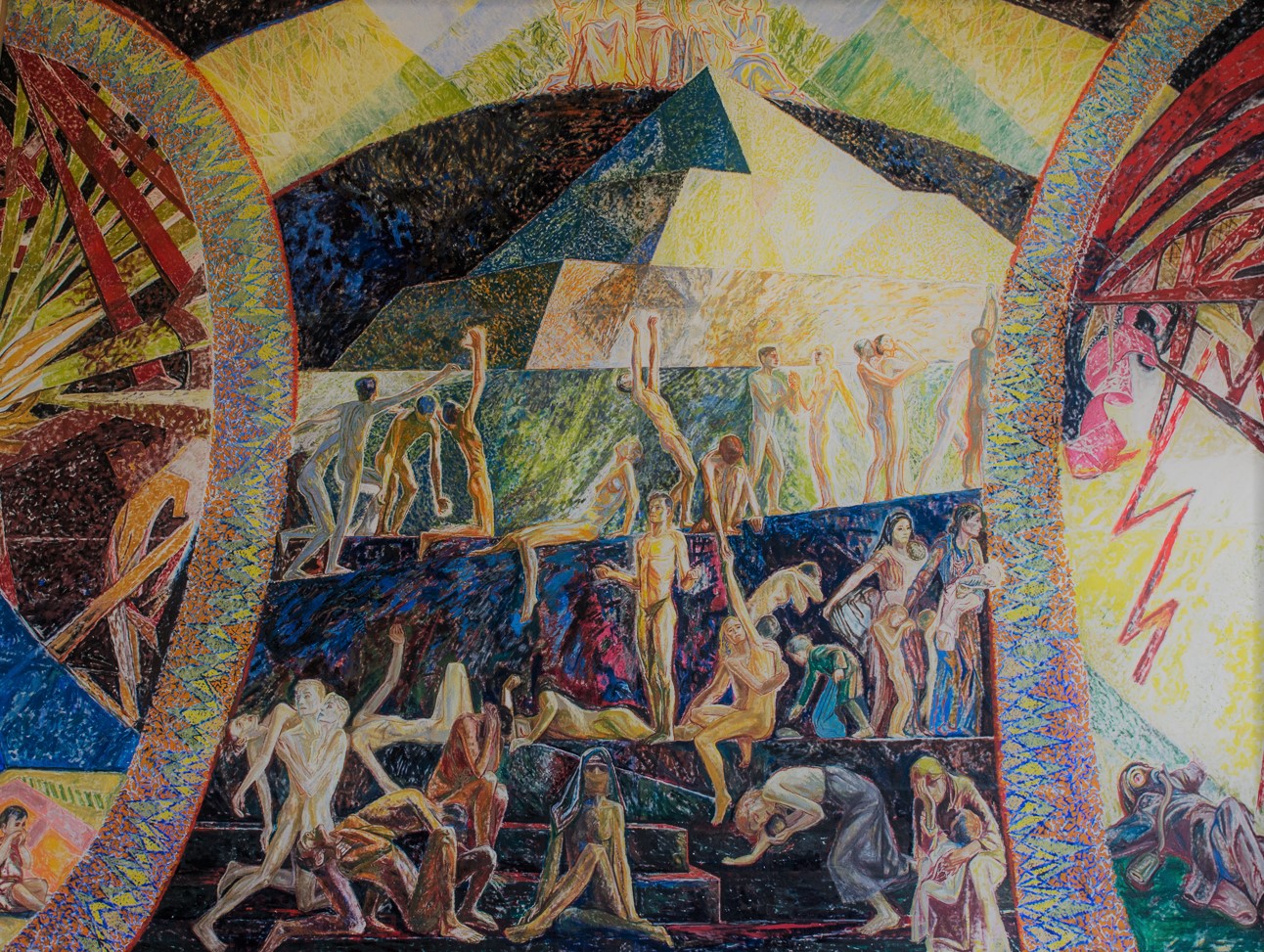 The Dream of Peace: an Artist's Vision
Do you not fear ridicule with this peace talk of yours? –  Oh yes, but what is ridiculous? I, having believed in a kind of ascending sunrise for the human race, or those whose convictions are being swallowed by the ascending darkness?
Talking about peace is not easy, one always risks making a fool of himself. In spite of this, Henrik Sørensen, Norwegian painter and author of "The Dream of Peace", thought it was a risk one should take.
The International Day of Peace was celebrated last September 21 in the so-called "Norwegian Room" (white and entirely devoted to the painting) in the library of Palais des Nations. The speakers shared stories and questioned the audience, can art make any difference in a conflict? Is it worthy to devote one's life to fight for peace? Sørensen would have certainly said yes.
To better understand the painting, it is essential to get to know Henrik Sørensen, as the author and his artwork are of course bounded to each other. He was born in 1882 in Fryksände (Sweden) and his parents were Norwegian. The experience of growing up surrounded by mixed cultures and languages in the Värmland's border region left a positive legacy on Sørensen's conscience. Consequently, the division of the United Kingdoms of Sweden and Norway was a dramatic event for him. He would often go back to that episode when advocating for cooperation and peace.
He showed an early interest in Scandinavian culture which often emphasises death. This is why death is often the protagonist of his paintings. One of his influencers was Edward Munch, with whom he shared the desire to capture human emotion in artwork. He also formed a connection with Matisse when he worked in his studio in Paris.
The outbreak of World War II deeply influenced the artist. From that moment on, his artwork was centred around the barbarism, violence and foolishness of warfare. "Ground of honor" was painted in those years; its protagonists are soldiers all uniformed alike who share suffering at the battlefront. Absurdity arises when those soldiers are forced to kill each other.
Sørensen's art further developed thanks to several influences, including Van Gogh's expressionist paintings, rarefied Scandinavian landscapes, and modernism and exoticism seen on his trip to Egypt. During this time, the artist produced many pieces, but his focus remained the narration of peace and war. According to Sørensen, art cannot be an end in itself. This is why he decided to extend his work outside galleries and studios, succeeding on the Norwegian cultural stage. He became a controversial figure due to his political ties, his journalistic service, and his deep faith in working to build peace.
Perhaps paradoxically, "The Dream of Peace" was unveiled in 1939: that same year the League of Nations experienced deep crisis and Poland was invaded. Nonetheless, Sørensen chose to take the three-week journey by train through Nazi Germany to reach Geneva and deliver the painting.
It is an impressive masterpiece: a person passing by cannot help but be astonished. Its vivid colours contrast with deep black, shocking the viewer. Curved lines intersect jagged lines, creating a feeling of chaos. The struggle of humanity is depicted.
At the very bottom the viewer recognises people in misery, suffering in despair. Some of them wear their clothes, others face anguish in their nakedness. On the left, there is an abandoned child left on his knees, while on the right a man lies on the ground, wasted by toxic gases, despite his mask.
A central male figure stands out in the middle of suffering, twisted bodies. He is surrounded by the pain of others, but seems to be living a different dimension, staring in front of him with open arms as if he was praying. The figures are depicted climbing a pyramidal structure, only when they reach the top levels can they finally find peace.
Humanity can reach a world of eternal light through knowledge. It is a place where people can enjoy relief and justice, and it is represented by four women with their children coming from the four corners of the Earth.
Reflecting on his life, Sørensen admitted to having doubts about his job when WWII began, but he maintained that this was the only path he was meant to undertake.
"The Norwegian Room" is a place of silence and meditation, situated in Palais des Nations where thousands of people work for peace everyday. The image and message are powerful and overwhelming, because the road to build peace is daunting, but nevertheless must continually be sought.