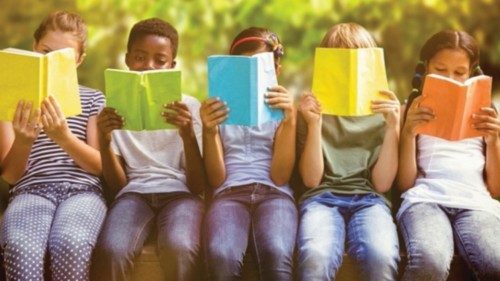 International Literacy Day – 8th September 2023
Promoting literacy for a world in transition: Building the foundation for sustainable and peaceful societies
The International Literacy Day will be celebrated one more time on the 8th September. Each year, a specific theme is chosen to focus the event on one important problematic. For 2023, the theme is: "Promoting literacy for a world in transition: Building the foundation for sustainable and peaceful societies".[1]
This theme serves as a reminder of the utmost importance of literacy in an ever-changing world. Therefore, it becomes necessary to adapt the means of promoting literacy. Indeed, literacy is vital for individuals to actively participate in democratic and political life, instilling a sense of responsibility to contribute actively to the construction of society. By enhancing literacy, citizens will have a better understanding of their rights and will be better equipped to engage fully in society.
Furthermore, literacy serves as a powerful tool in establishing sustainable and peaceful societies. Access to information enhances public awareness of ecological issues and the stakes of peace in the world. Moreover, technological advancements have widened the gap between different segments of the population, posing a significant challenge in our transitioning society.
Nevertheless, there are still approximately 758 million adults worldwide who cannot read or write, with two-thirds of them being women.[2] It is due to the magnitude of these statistics that UNESCO has been committed to organizing this day since 1967, marking the first celebration of International Literacy Day.[3]
During this day, UNESCO rewards the best initiatives aimed at promoting literacy through various prizes.[4] Additionally, projects and activities are organized worldwide to raise awareness of the importance of literacy.[5]
IIMA – Human Rights Office is very engaged in the protection of human rights, and in that case, we are engaged in the promotion of literacy. For instance, on the occasion of the 52nd Human Rights Council, we recommended to India to implement effectively its law about free and compulsory school for children, equal access, and quality of education.[6] We also recommended to the Philippines to increase the budget for education to increase salary, to buy materials, and to give a better education to children.[7] What is more, we recommended Argentina to increase the quality of education's tools as technological means for every school.[8] As other example, we recommended the Benin to give more money to private school to increase free education and to implement measures to keep children at school.[9]
During the past years, many countries had adopted measures to promote literacy. For example, Argentina is working to reduce the technological gap in schools.[10] Another example: Zambia add a human rights class and gender equality curse in school's program and in some training program.[11]
The Institute, in the 97 countries where it is present, remains committed to care for and accompany the new generations so that they can be builder of a just, humane, sustainable and peaceful societies by "renewing its passion for a more open and inclusive education to form people capable of overcoming fragmentation and opposition" (Acts CG XXIV, no. 33).
[1] https://www.unesco.org/en/days/literacy
[2] https://imagestation.com/fr/literacy-statistics/
[3] https://www.unesco.org/en/days/literacy
[4] https://www.unesco.org/en/prizes/literacy
[5] https://www.edudwar.com/international-literacy-day/
[6] http://iimageneva.org/wp-content/uploads/2023/04/VIDES-HRC52-Joint-Oral-Statement-UPR-India_Item-6.pdf
[7] http://iimageneva.org/wp-content/uploads/2023/04/VIDES-Joint-Statement-on-the-Philippines-Item-6-52HRC.pdf
[8] http://iimageneva.org/wp-content/uploads/2022/07/IIMA-Joint-UPR-Submission-Argentina_Final-14.06.2022.pdf
[9] http://iimageneva.org/wp-content/uploads/2022/07/Joint-UPR-Submission-BENIN-4th-Cycle_07.07.2022-final.pdf
[10] http://iimageneva.org/42nd-upr-session-argentina-benin-and-zambia/
[11] https://documents-dds-ny.un.org/doc/UNDOC/GEN/G22/578/29/PDF/G2257829.pdf?OpenElement