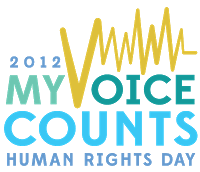 10 December 2012, Human Rights Day
On 10 December we celebrated the International Human Rights Day.
The date was chosen to remember the adoption of the Universal Declaration of Human Rights by the United Nations General Assembly on 10 December 1948 in Paris. The Declaration was the first universal enunciation of human rights which posed the basis for the development of human rights globally.