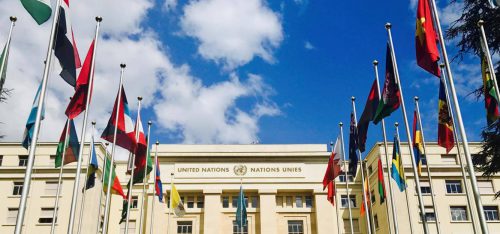 The 28th session of the Universal Periodic Review (UPR)
On November, 6th, 2017, the 28th session of the UPR began in the Palais des Nations, in Geneva, Switzerland. This session occurred during the third Review Cycle. The sessions took place through 17th of November. The following countries have undergone review: Check Republic, Argentina, Gabon, Ghana, Guatemala, Switzerland, Republic of Korea, Benin, Pakistan, Zambia, Japan, Ukraine and Sri Lanka.
The Universal Periodic Review (UPR) is a cyclical review process of all 193 UN Member States. Once every four years the human rights situation in each State is reviewed. The State under review states what actions have been taken and the measures being adopted in order to improve human rights within the country. During the UPR specific recommendations are made by the Member States of the Human Rights Council to the State under review. Each State is assisted by three Council members. These troikas help the examined States to produce the report and they act as rapporteurs.
The representatives of the IIMA and VIDES Human Rights Office attended the meeting concerning the countries where the FMA sisters have established activities related to Human rights:
Argentina– the discussion was about the gender discrimination and the combatting the violence against women
Peru– focused on the commitment against human trafficking, poverty reduction and child protection;
Gabon- recommendations were about eradication of extreme poverty and rural children education
Japan- discussions centred on the aging population and abolishment of the death penalty.