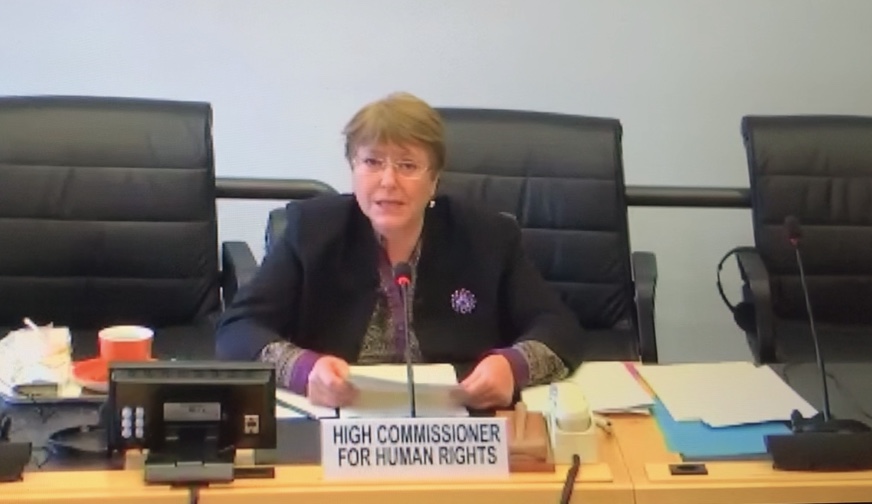 Webinar on the Presentation of 2019 UN Human Rights Report
On Friday 5th June 2020, the High Commissioner for Human Rights, Michelle Bachelet, presented to the NGO representatives the UN Human Rights Report, which is the annual report on the human rights' work realized by the UN Office of the High Commissioner for Human Rights (OHCHR) around the world for 2019.
In her introduction, Mrs. Bachelet underlined that the 2019 report demonstrates how the Office supports States to uphold human rights in the context of eroding multilateralism, in spite of the new threats to civic space and ever more complex climate for human rights. The Report covers her first year in office and the second year of the OHCHR management plan 2018-2021. It also highlights how the protection and expansion of the civic space helps advance human rights for all. The report covers the wide range of work carried out by the OHCHR in cooperation with the civil society and other partners from all around the world.
Among several important accomplishments regarding children's rights, is the strengthening of the capacity of the coalition against the engagement of children and young people in the armed conflict in Colombia (COALICO) and empowering them to participate in the transitional justice mechanism.
Regarding child participation pursuant the CRC Convention, also in the context of Covid-19 emergency, the OHCHR supports States to implement domestic law and policies aimed at ensuring children to be heard and empowered to stand up for their rights and to contribute to positive change. Children are important partners for the OHCHR work. The Office engages with them more regularly and as a matter of priority, for example, at the Human Rights Council and at the Social Forum.
Furthermore, Mrs. Bachelet highlighted how protecting and promoting civic space will remain one of the priority areas for the current and future work of the OHCHR, in line with the call for action for human rights made by the UN Secretary General. Therefore, through partnership and consultation with civil society partners, the OHCHR has worked on a number of initiatives that strengthen civil society participation, protects human rights defenders at risk and actively promote civic space at global and national level.
Mrs. Bachelet also underlined how the cut of 60% of the regular budget to the UN in 2019 has strongly affected the work of the human rights mechanisms. She called, therefore, for more voluntary contributions.
Finally, Mrs. Bachelet emphasized the extreme importance of civil society to effectively respond to the pandemic: the international community needs to redouble efforts to support civil society with the view to ensure an effective response to COVID19, but also to develop effective strategies to deal with pre-existing global human rights challenges.
For further information, consult the full report at: https://www.ohchr.org/Documents/Publications/OHCHRreport2019.pdf