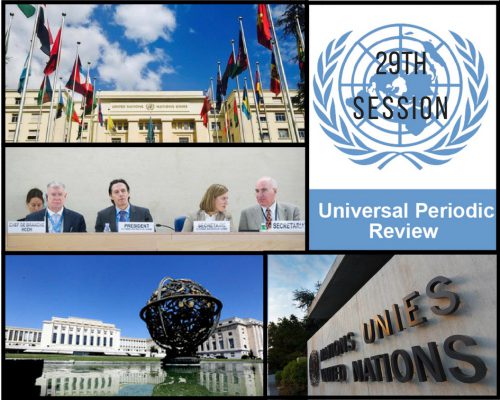 Staying Informed – The 29th session of the Universal Periodic Review (UPR)
On 15 January 2018, at the Palais des Nations in Geneva, Switzerland, the 29th session of the Universal Periodic Review (UPR) commenced, which lasted until the 26 January.
Every four and a half years there is a scheduled review of all UN Member States. The State under review addresses measures adopted and the actions taken to improve human rights conditions within the country. During the review, the UPR Working Group, consisting of other Member States, asks questions and gives recommendations.
In the 29th session, fourteen States were under review: France, Tonga, Romania, Mali, Botswana, Bahamas, Burundi, Luxembourg, Barbados, Montenegro, United Arab Emirates, Israel, Liechtenstein, and Serbia.
The representatives of the IIMA and VIDES Human Rights Office attended the reviews of the following countries:
France – the discussion focused on access to education and housing for Roma children, gender equality, and the rights of migrants and unaccompanied minors.
Israel – the discussion centred on Israel's disregard of Palestinian rights, its commitment to women's right to equal pay and higher participation in public life, more action against violence against women, as well as the rights of migrants and refugees.
Botswana – recommendations were about women's access to job opportunities and the prohibition of corporal punishment within the family and institutions.
Once the UPR session concluded, the primary responsibility to the follow up on the recommendations received lies with the State under review. Local civil society is called to monitor and encourage the State to take actions for the advancement of human rights in the country.