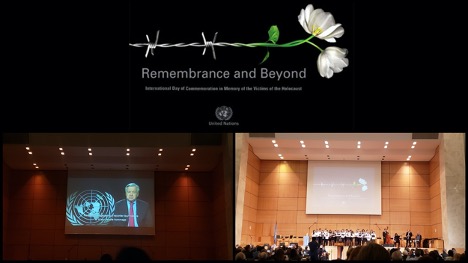 Remembrance and Beyond: International Day of Commemoration in Memory of the Victims of the Holocaust
On January 27, 2020 IIMA joined The 2020 International Day of Commemoration in Memory of the Victims of the Holocaust in Palais de Nations, titled: "75 years after Auschwitz – Holocaust Education and Remembrance for Global Justice." The ceremony began with a video message by Mr. António Guterres, Secretary-General of the United Nations, where he reminded us of our duty to "never forget" of the tragedies that occured and "vow to tell their stories and honor them" by continuing to defend the dignity and life of  individuals to create a peaceful world . Holocasut survivor Paul Sobol, who refers to himself not merely as a survivor but a "memory keeper", spoke about his experience in the Auschwitz camp. Mr. Sobol stated that for many years he was unable to talk about his experience because he, like many others, felt like physically they were free, but in their minds they remained hostage. Mr. Sobol has dedicated his life to tell his story and encourage people to continue thinking, dialoguing, and learning from this tragic moment in history.
Following Mr. Sobol's testimony, representatives from the permanent missions of Israel, the Russian Federation, the United States of America, and the European Union delivered statements inviting everyone to continue the fight against antisemitism. States also encouraged everyone to respect each other and fight for the dignity and human rights of our international community, they reminded us that although we can't change history, we can learn from it to "never again" relive the holocaust. The ceremony concluded with a musical interlude provided by the Choir of the Geneva Alliance Girsa School accompanied by the Hotegezugt Orchestra.
A booklet titled "Addressing Anti-Semitism through Education" was given to guest at the ceremony. The publication is also available online at https://unesdoc.unesco.org/ark:/48223/pf0000263702