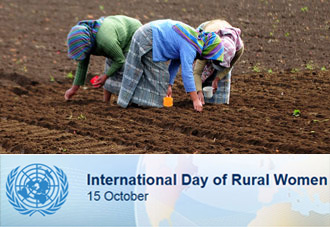 International Day of Rural Women
The 2020 International Day of Rural Women, celebrated on October 15, will focus on "Building rural women's resilience in the wake of COVID-19", to create awareness of these women's struggles, their needs, and their critical and key role in our society.
The crucial role that women and girls play in ensuring the sustainability of rural communities has been increasingly recognized. Women account for a substantial proportion of the agricultural labor force, including informal work, and perform unpaid care and domestic work within families in rural areas. They make significant contributions to agricultural production, food security and nutrition, land and natural resource management, and building climate resilience.
Nevertheless, the available data reveals that, globally, rural women fare worse than rural men and urban women and that they disproportionately experience poverty, exclusion, and the effects of climate change.
For example, less than 20% of landholders worldwide are women and the gender pay gap is as high as 40% in rural areas. Women and girls in rural areas lack equal access to productive resources and public services, such as education and health care. Structural barriers and discriminatory social norms continue to constrain women's decision-making and political participation in rural communities.
Based on the gravity on this situation, the International Day of Rural Women will offer the opportunity to call the attention of the international community on next steps to be promptly undertaken in order to improve the enjoyment of human rights for women in rural communities.