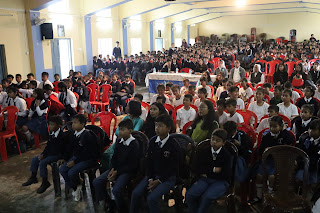 IIMA Provides Input to United Nations Independent Expert HRC Report
The United Nations Independent Expert on the Promotion of a Democratic and Equitable International Order, Livingstone Sewanyana, asked NGOs to provide written inputs for his Thematic Report on Youth Participation and Engagement in Intergovernmental Forums.
The Human Rights Council passed a resolution on Youth Rights where it called upon States to empower youth to contribute to the political, civil, economic, social, and cultural development of their countries. The report will be used to identify good practices of youth participation in intergovernmental forums globally to advance the Sustainable Development Goals. The Independent Experts goal is to further promote youth participation; identify barriers youth face when trying to participate in these forums; and increase the participation of youth from underrepresented countries.
Questions We Answered:
What are examples of good practices allowing for meaningful and effective engagement of youth in intergovernmental forums and policy making?
What are examples of efforts made by Member States to facilitate and support youth participation and engagement in intergovernmental forums?
How is gender diversity promoted in initiatives and programmes to promote youth participation in intergovernmental forums?
What are examples of youth participation having influenced policy making of intergovernmental forums?
What are challenges and barriers faced by youth in their participation in global forums, and what are the ways to overcome these challenges?
We submitted a total of seven reports highlighting youth engagement in intergovernmental forums in Brazil, Philippines, India and the United States of America. Our interns (Tiana Jurisic and Giulia Gedda) worked very hard to collate survey data from four of our provinces in Brazil, two in the Philippines and one each from the USA and India to provide great examples of good practices, State efforts, and barriers of youth participation. He will present our reports at the 54th session of the Human Rights Council in September 2023 and they will be posted on the mandates webpage.
Special thanks to the Laura Vicuna Foundation (Philippines), Province of Our Lady of Aparecida (IIMA Brazil), Center for the Defense of the Rights of Children and Adolescents of Santa Catarina (Brazil), Instituto Selo Social (Brazil) and the Salesian Network of Brazil for their collaboration and allowing us to feature the amazing work they are doing in preparing the leaders of tomorrow!