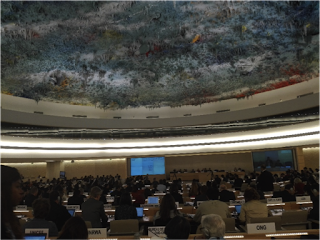 Human Rights Council Holds 25th Special Session on the Emergency Situation in Syria
On October 21, 2016, IIMA attended the 25th Special Session of the Human Rights Council in Room XX of the Palais des Nations. This event was organized due to the urgency of addressing the emergency human rights situation in Aleppo, Syria.The Special Session was proposed by the United Kingdom on behalf of a core group of States including Germany, France, Italy, Jordan, Kuwait, Morocco, Qatar, Saudi Arabia, Turkey, and the United States, and supported by 33 other Member States. The day was used as a discussion platform for Resolution A/HRC/S-25/L.1, which proposed to
immediately cease hostilities, as well as end aerial and military attacks on Aleppo. It also emphasized the need for immediate and safe humanitarian access to the city.
The session began with a video message from High Commissioner Zeid Ra'ad Al Hussain, who urged members to leave behind their political rivalries and not turn this discussion into a "political chess game." Instead, he pleaded states to focus on the millions of Syrians who have been killed, displaced and have been victims this civil war. "Aleppo will not be there any more by the end of the year," were the honest words of Mr. Paulo Sergio Pinheiro, the Chair of the Independent International Commission of Inquiry on Syria, who implored Member States to engage in earnest political negotiations, as the idea that someone will "win" this war is a delusion.States' comments expressed an overall concern for the deplorable situation in Syria and general support for the contents of the Resolution. The United Kingdom, Russia, the United States and Turkey, were among those States that used the session for finger pointing and name calling. Other countries, such as Ecuador, Brazil and Kuwait called attention to the fact that the sessions regarding Syria had become highly politicized and it was time that action be taken to end the suffering in this country once and for all. Morocco, Cuba and Iraq declared that Syria must not become a puppet in this situation, but that its sovereignty must be respected and protected.
By the end of the day, Resolution A/HRC/S-25/L.1 was adopted with 24 votes in favour, seven against and 16 abstentions. The Human Rights Council called for the Independent International Commission of Inquiry on the Syrian Arab Republic to provide a detailed report on the situation in Aleppo, to include the names of those individuals who must be tried and convicted for abusing international human rights law. The Council also established a board of inquiry on the bombing of the UN-Syrian Arab Red Crescent relief operation in September 2016.