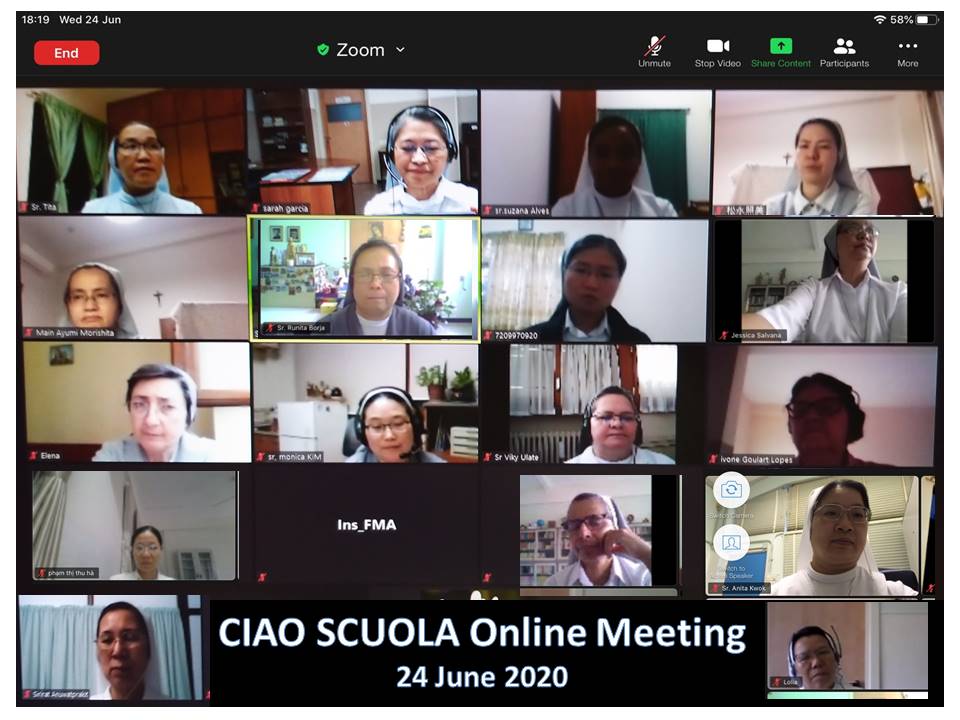 Guaranteeing the right to education in the time of the pandemic – IIMA Online Meeting
On June 24, 2020, IIMA members from East Asia met online to discuss the topic on how to "guarantee the right to education in the time of the pandemic".
The meeting was moderated by Sarah Garcia, IIMA Main Representative at the UN and Director of IIMA Human Rights Office in Geneva. IIMA members and educators from Cambodia, Myanmar, China, Hong Kong, Macau, Taiwan, the Philippines, Japan, South Korea, Thailand, Timor-Leste, and Vietnam attended the meeting.
 "One of the biggest challenges of the current situation is ensuring education for all. This meeting is a significant space to help each other to find concrete ways to guarantee education for everyone, especially children, adolescents, and young people in situations of hardship and exclusion" – said Runita Borja, IIMA Chief Executive Officer, in her opening remarks.
The participants presented the situation of the schools in their respective contexts and the difficulties encountered. They, likewise, shared their responses  to deal with the situation caused by the pandemic to give continuity to the education of the children and young people.
IIMA Educational institutions in East Asia, as in other parts of the world, are affected by the effects of the Covid-19 pandemic. A long-term solution is thus needed to guarantee the continuity, quality, and sustainability of IIMA educational institutions. For this reason,  IIMA local members have activated a process of researching alternative ways to continue promoting the right to education,  particularly of students who are excluded due to lack of access to online learning platforms or at risk of dropping out of school due to the unemployment of the parents. Other matters taken into consideration are the protection of children, adolescents, and young people against domestic violence and online threats, the school curriculum, the formation of teachers and school staff, financial sustainability, and school infrastructure.
The Report "A framework to guide an educational response to the COVID-19 Pandemic of 2020", prepared by the Organization for Economic Cooperation and Development (OECD), aided IIMA members to identify the most challenging issues and needs to be addressed in developing and implementing effective educational responses.  Among the indicators highlighted were the following: (i) establish a task force (commission-guide) with responsibility for developing and implementing the educational response to the pandemic; (ii) develop a continuity plan for the works; (iii) develop communication with each student and encourage learning; (iv) identify and implement educational strategies that leave no pupils /students behind; (v) ensure support for the most vulnerable students and families; (vi) create collaboration between teachers and parents to support learning in the new way of educating.