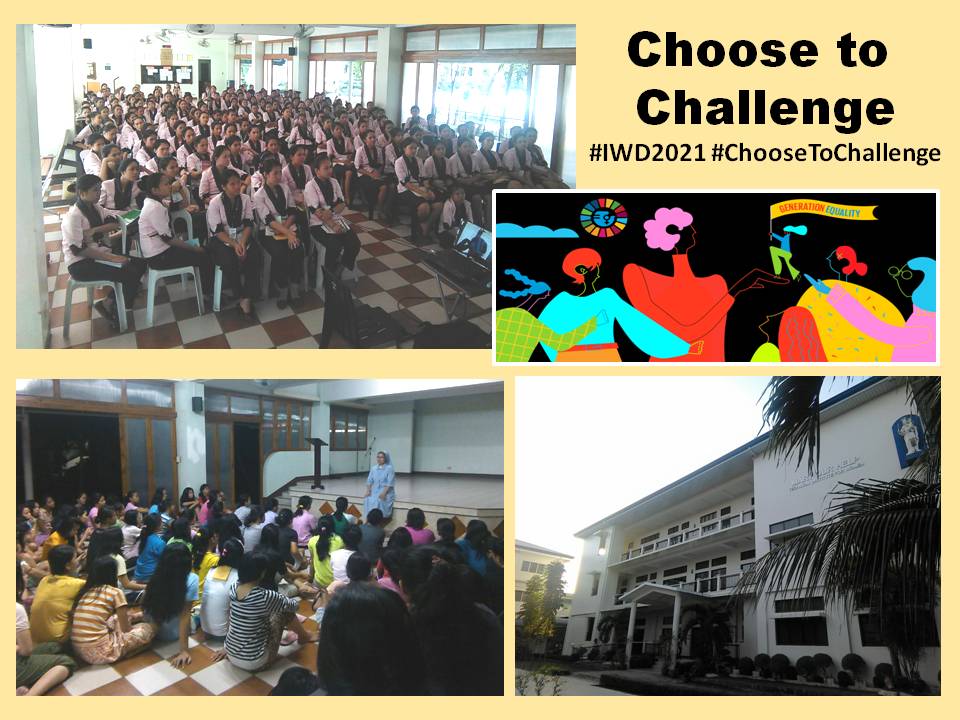 Celebrating International Women's Day 2021
Every year, on the 8th of March, we celebrate International Women's Day, an event promoted by the United Nations in order to celebrate the progress reached by women in the economic, political, and cultural fields. The theme proposed for 2021 is: "Women in leadership: Achieving an equal future in a COVID-19 world". This celebrates the tremendous efforts by women and girls around the world in shaping a more equal future and recovery from the COVID-19 pandemic.
The campaign slogan is: "Choose to challenge". It is important to know this celebration as well as its theme, through the use of social networks, using the hashtags #ChooseToChallenge, #IWD2021 (https://www.internationalwomensday.com/Theme ).
IIMA members are encouraged to participate in this initiative by taking pictures with one's right hand raised to express one's availability to:
call out situations of inequality based on gender;
strive to build a more inclusive world; and
celebrate the success of girls, teenage girls, and women.
Istituto Internazionale Maria Ausiliatrice (IIMA) in its various educational environments, works for girls and boys, be they children, young people, and adults so as to contribute to the building of a world that is home for all. IIMA, however, has a preferential option for girls and young women, especially the most vulnerable and forgotten. Here are some stories of young girls from IIMA's educational institutions who chose to make a difference.
Mary Our Help Technical Institute for Women (MOHTIW) in Cebu, Philippines, is a vocational technology center founded in order to help improve the lives of marginalized communities through the education of women. Its vision is to form young leaders who are compassionate and committed to serve and achieve relevance and excellence in building society. Its community-based education and partner agencies collaborate to promote the integral development of young women through quality and value-laden education aimed at preparing them to become good persons of faith, productive and honest citizens, and effective global lifelong learners and leaders.
The MOHTIW center has expanded in the last few years with the construction of a residence for young students coming from other cities and provinces of the country, many of whom come from risk situations, some have experienced violence and/or victims of human trafficking.
From simple courses such as dressmaking, baking, culinary arts, home management, and cosmetology, the center now offers bachelor's degree courses such as BS Electronics Engineering, BS Office Administration, BS Entrepreneurship Management, and BS Travel Management. Through the dual training system, the young girls are assured of receiving a quality education and better opportunities for a stable job. Since 2005, around 1000 young women have concluded their vocational studies, 20 have completed their bachelor's degree and 114 proceeded to the university level.
One of the center's former students, Amelita, came from a poor family in Bantayan, a small island in Cebu. She was a victim of domestic violence and abuse in the family and later of human trafficking. Driven by a purpose she never gave up on her dream to live a better life. She developed as a person and emerged as a leader during her studies at the MOHTIW. She had her on-the-job training at a local factory where after two months, she was promoted to line leader and became employed full-time. At present, Amelita is a line leader responsible for 40 to 50 persons. Grateful for what she has achieved through the center, she strives to be a better person, employee, and leader. A real model to other young students.
Another former student, Marie Grace, comes from an island that was devastated by typhoon Haiyan. Her family lost everything. After her studies at MOHTIW, Marie Grace was able to get stable employment. "Accepting what is at your door, being productive, and persevering against all odds" are what she considers the winning formula for success at this point of her life. She understood the importance of education and continued to pursue her dream of earning a degree. In fact, she will soon graduate with a degree in Bachelor of Science, major in Office Administration from MOHTIW. Currently, she is saving money in order to provide her younger sister with the possibility of higher education.
These are just two success stories of young girls who found support in a community that nurtured their dreams and developed their potentials. They took the challenge and dared.
IIMA takes up the challenge of the Global Pact on Education, launched by Pope Francis in 2020. It believes that education is transformative and that the commitment and collaboration of civil society and the whole community, are indispensable. Mary Our Help Technical Institute for Women is one example of how a positive educational environment and a strong alliance and partnership among persons, organizations, and institutions can empower young girls to become productive, effective, and transformative actors of society.